When Florence wrestler Avery Meinzen wrestled Saturday at the Western B/C divisional in Thompson Falls, it was the first time the junior had taken the mat in any form for 16 days.
The Falcon, no stranger to injury, suffered a concussion and a case of whiplash at the Choteau Mixer on Jan. 12 and was forced to the sidelines until he healed. He was cleared to exercise on a bike just two days before the divisional tournament and didn't actually get a full practice in before the state-qualifying meet.
PABLO — Avery Meinzen moved around the wrestling mat with ease, effortlessly putting his opp…
But Meinzen brought home top honors in the Western B at 160 pounds, and he remains a favorite for a state title this Saturday after the two-day state wrestling tournament concludes in Billings.
"If he's 100 percent at state, the sky's the limit, he's a dangerous guy to wrestle," said Florence coach Brian Volkmann, whose squad brought home a second-place Western B trophy, one spot behind perennial powerhouse Eureka.
Meinzen didn't take long to show just how tough he was on Saturday. His three pins en route to the division title came in a combined 1 minute, 44 seconds. The title-winning pin, against Eureka's Gavin Pilkington, happened in just 20 seconds.
The state tournament on Friday and Saturday is a different animal, though, with the potential for four championship bracket matches against the state's best. That means Meinzen is conditioning against the clock.
"Right now I'm just doing everything I can. I'm waking up at 6 a.m. to get an extra run in and making sure i can get back in shape, because I lost a lot from the two weeks off," Meinzen said. 
But the Florence wrestler's focus is rock steady. After a gruesome back injury Meinzen's freshman season contributed to a still-impressive but personally unsatisfying fourth-place finish at state last year, the Falcon junior is ready to take the next step: Win a state title.
"Once you get put down, you always gotta climb back up," Meinzen said. "It's tough, but when you got an end goal in mind, it makes it a lot easier."
Favorites around the 'Root at state
Florence
Along with Meinzen, Florence's Oliver Post at 103 pounds and Spencer Jones at 205 are among the favorites to bring home some state hardware from Billings. The wrestlers, on opposite sides of the weight spectrum, have also made their way through the season in slightly different fashion.
Jones has literally been unbeatable this year. The 17-year-old senior is a perfect 23-0 according to the Montana High School Association brackets on trackwrestling.com. He's the only wrestler in the B/C 205 state bracket with a goose egg in the loss column this season, and Jones — who lost in last year's 182-pound title match to now-University of Montana football player Garrett Graves — has done nothing this season to make anyone think he's not the favorite this year.
Three years ago, then-sophomore Spencer Jones, his family and some members from the Florence…
"He's a laid back guy, he doesn't stress. He just takes everybody one at a time. It's really cool and he's so dominant," coach Volkmann said.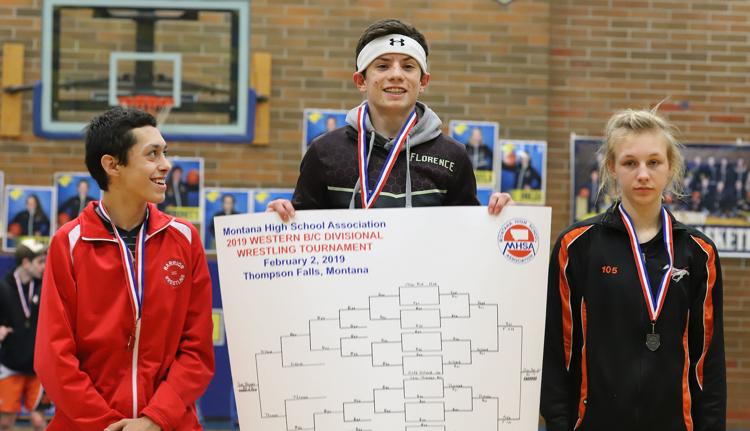 Then there's Post, sitting at an impressive 18-7 overall, coach Volkmann said his 103-pounder has really come on strong as of late. What better time than just before the state tournament?
"Post's pushing himself harder than I'm pushing him in practice. In between goes, he's doing jumping jacks. He's driving himself which that's key," Volkmann said of Post, who captured the Western B-C title with a pair of pins. "A kid has to do more than what's required in order to get on top and he's doing it."
Corvallis
The Blue Devils had the strongest showing at the Western A divisional tournament Saturday in Butte. Corvallis placed fourth as a team, just 19.5 points behind Columbia Falls in third place (169.5-150). Polson edged Frenchtown for the division title, 221-220.
Powering the Blue Devils' points last weekend was 126-pound senior Dante Venema, who pinned his way to an individual division title and takes an impressive 40-4 record into Billings MetraPark Arena on Friday and Saturday.
"Hard work, determination, he's one of our best kids hands down," Corvallis coach Matt Davis said of Venema. "He works really hard to do the very best he can and he's very coachable."
Triston Davis, coach Davis' son, missed out on a divisional title after getting caught in a takedown that could have gone either way during the 138-pound divisional semifinal. Davis trailed 2-1 and tried for the winning takedown, and he nearly had it, but ultimately was taken down himself by Libby's Jeff Offenbecher. Offenbecher held on to win by a 4-1 decision.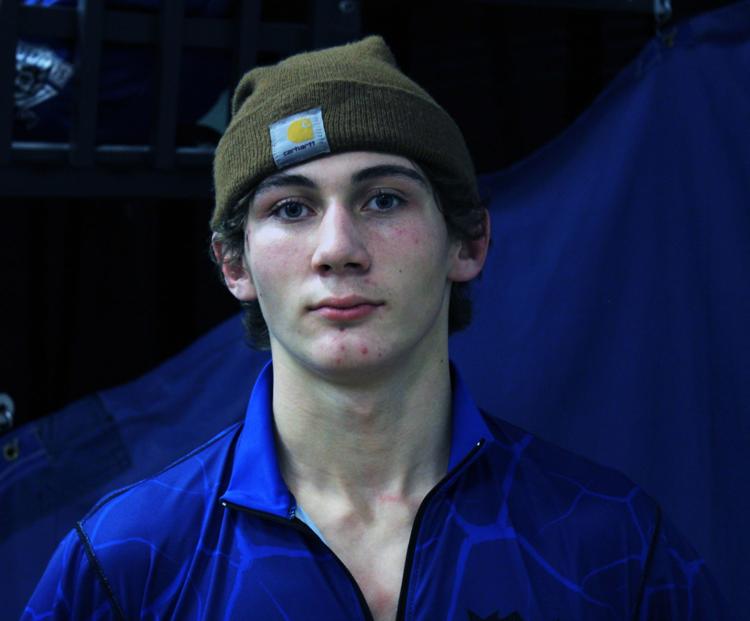 Still, Davis — among the Top 5 in the 406mtsports.com Class A coaches polls all season — took home the third-place trophy.
"He's just gotta slow down and do what he knows he needs to do and finish off matches," Triston's coach and father said. "...If he wrestles really well, he could win it all, but there's five other really good kids he might — you know, if he wrestles bad — he might not place."
Of all the Bitterroot schools, Corvallis brings the most to Billings with 11 wrestlers.
Hamilton
Last year, Michael Golden's season ended with a win, but it came in the third-place match at state.
This year, the goal is for that win to bring gold.
"Mikey's sitting really good and I'm super excited about his chances to go do what he's wanted to do and that's go get the chipper done," Hamilton coach Chad Williams said. "If he gets it, it'll be the capstone to his wrestling career.
All the top-ranked 132-pound wrestler in Class A has done in his senior season is compile a 34-2 record (none of those losses were to another Class A competitor), and Golden was a perfect 4 for 4 with four pins at Saturday's divisional tournament.
Not one match lasted more that 1 minute, 7 seconds.
"He's just gotta keep wrestling smart. We've been watching a lot of film from his past matches and just dissecting it, picking it apart, just tweaking little things," coach Williams said of Golden. "He's so well-rounded, such a good athlete, it's more just making sure we're wrestling the way we want to wrestle."
Something fun to watch out for at state, though, is a possible matchup between Golden and his teammate, Adrian Garcia. Garcia, who sits at 20-6, was a sudden-victory loss away from meeting Golden in the divisional tournament championship. Garcia took home the third-place trophy at divisionals, and could meet Golden in a semifinal match at state if things shake out right.
Another Bronc to look out for is Bridger Williams. The 145-pound junior sits at just 21-14 overall this season and took home the silver at the Western A Divisional.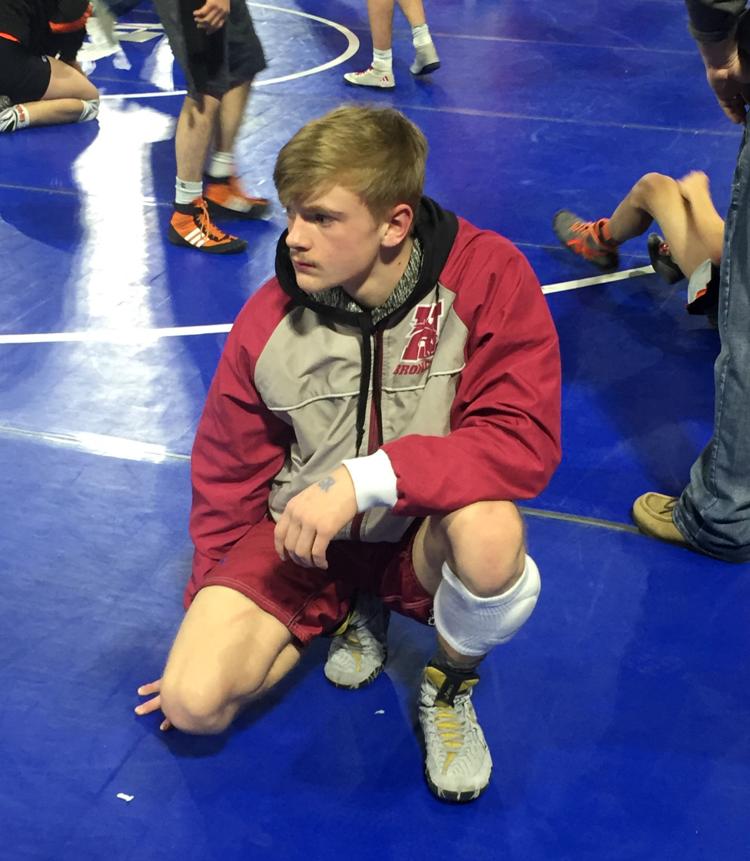 But Williams is a year removed from a third-place finish at state last year (138 pounds) and has filled his season with some of the best — including Havre's Martin Wilkie, a three-time state champion who sits at 42-0 this season.
"Bridger set a goal that if he lost to anyone at state it was gonna be Wilkie, and if things go as planned, they'd meet in the semis, but he's gotta get there first," coach Williams, and Bridger's dad, said. "It's one match at a time. We're not going to think about Wilkie until he's in front of us."
Coach Williams also mentioned Noah Hurst as a dark horse at 160 pounds. Hurst — whose sister, Hannah, also qualified for the state tournament — sits at 24-9 overall this season and placed third at divisionals.
Hamilton freshman and Bronc wrestler Hannah Hurst had to get tough in a hurry. With two olde…
Stevensville 
The Yellowjackets bring five wrestlers to Billings, including the aptly named Kyler Pancake at 160 pounds.
And even after a second-place finish at the Western A divisional Saturday, the Yellowjacket senior is still among the favorites to win a state title in Billings.
"Kyler Pancake, he's gonna place well, it just depends on how he wrestles also. There's a lot of beatable kids for him," Corvallis' Davis said.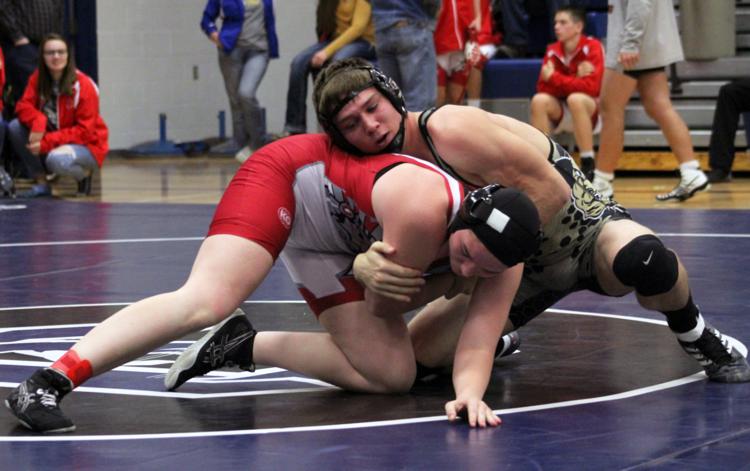 Pancake topped Hurst by a close 11-8 decision in the Western A semifinal, but he fell to Dillon's Cooper Hoffman just two seconds before the first period's conclusion in the divisional title match. 
If the two were to meet again in the championship bracket, it'd come in the title match.
Full results from the all-class state wrestling tournament Friday and Saturday will be available at trackwrestling.com. Friday's results will be in Sunday's edition of the Ravalli Republic, and a full recap from the tournament will be online at Ravallirepublic.com