HELENA — Zane McCormick has already put together a decorated high school athletics career. In fact, he recently signed to play college football for Dickinson State.
But there is one thing missing from his resume that he wants badly: a state wrestling championship.
And this weekend, at the All-Class State Tournament in Billings, McCormick will take his last shot at reaching finals night and winning that elusive title.
"It would be awesome to make it to finals night and have that experience," McCormick said. "It's my last chance, so I have to go all out."
The Capital standout, fresh off a divisional championship last weekend and headed into his final competition as a Bruin, is wrestling as well as he ever has. 
"(State wrestling) is special and as a senior, you want to go out and leave your legacy," Capital head coach Jeff Mahana said. "Zane has been wrestling for a lot of years and he hasn't been able to take that last step into the finals, his whole career and this is a great opportunity."
"He knows he can't hold anything back now," Mahana added. "He has always been close and now, he believes it's his time."
Belief is huge in any sport. But in wrestling, that confidence is paramount and after defeating Kameron Moreno of Butte High, 5-2 in the Western AA final last week, McCormick, who was also 21-4 this season, has plenty of it.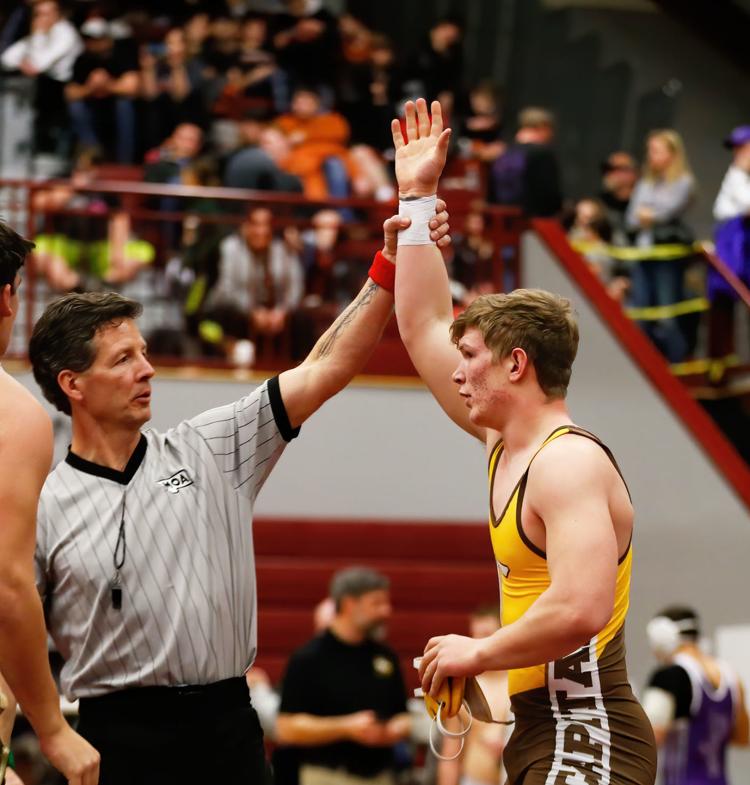 "Powerful self thought is so important," Mahana said. "We really try to focus on the psychological aspect of match preparation. But when you are a senior, you are 18 years old, you have matured and your brain tells you, 'It is my time.' And I think we are getting there."
One thing that will certainly help McCormick this weekend is his familiarity with the Metra and wrestling on the oversized stage that is the All-Class State Tournament, with thousands of fans packing the arena each day.
"You just have to focus on what you already do," McCormick said. "You can't get worried about everyone that's watching you. Just be confident in what you know how to do."
That experience started as a sophomore in 2018, when McCormick went 2-2 in the 205-pound weight class. He won his first match by pin and eventually, was a win away from reaching the podium, before Moreno, the same wrestler from Butte, ended his tournament.
Last season, Moreno and McCormick went at it again, this time in the state semifinals, but once again, Moreno won, before eventually winning the 205-pound state championship. 
For this part, McCormick rebounded to take third, giving him four victories, including three by pin or major decision. And while it wasn't finals night or a state championship, it was a taste. 
"It was great getting up on the podium," McCormick said. "It makes you want it more getting that close. I had a one-point match last year in the semis."
After two years, McCormick seems to have pulled ahead of Moreno, although the match between the two in the divisional final went down the wire, yet both wrestlers have to deal with a new force in the 205-pound weight class and that's Elijah Davis of Great Falls High, who won at 182 pounds last season.
Davis and McCormick could be destined to meet on finals night Saturday, just as they did last month at the Jug Beck Rocky Mountain Classic in Missoula, a match won by Davis. 
"All of my losses this year have been by just a few points," McCormick said. "So it's just trying to learn from each match and fix those little things."
Eventually, McCormick was able to overcome his nemesis, Moreno, so it's possible he could find a way to do the same against Davis, who enters the tournament 29-1.
"He's a really smart wrestler," McCormick said of Davis. "He's not really technical, but he does what he does and he's good at it." 
But each loss, is a learning opportunity, one McCormick and Capital are hoping to use. 
"We have been fortunate in a lot of close matches we have had, we have been able to learn something," Mahana said. "And one of those things is that if we wrestle a clean match and don't give them points, we are generally sitting pretty well."
Whether on the football field or the wrestling mat, McCormick isn't flashy, just effective and his brute strength is a big reason why.
But wrestling is about more than ability. It's about getting the mental side of things, as well as the physical, to work in unison and ahead of his final high school wrestling meet, McCormick has reached his peak, in both aspects.
Now it's just a matter of executing on the biggest stage in Montana high school wrestling. 
"It would mean a lot," McCormick said of ending his career with a title. "All the years I have been wrestling, to work up to that, it would be awesome."