To be a great wrestler, confidence is almost a requirement and it's something that Helena Capital's Noah Kovick certainly doesn't lack.
His confidence isn't overbearing, though. Instead, it's quiet and unassuming.
Yet, the confidence is there for the state-champion wrestler and Division-I signee at North Dakota State. The only proof you need is his weight class, which he changed, as the 190-pounder decided to move up a weight class to 205, after wrestling in the 182-pound class a year ago. 
Why? 
The reason is simple: so he could wrestle and dethrone two-time defending state champion Elijah Davis of Great Falls High.
"I think I'm better than him," Kovick said. "I obviously think I'm going to win a state title. He's good and it will be fun to go out there and scrap.
"He will be my only competition this year."
That's sort of a brash statement, yet over the last few years, Kovick has proven he can more than walk the walk.
In 2019-20, on his way to the 182-pound state championship, he lost just one match and in 2021, limited to duals, Kovick is undefeated and hasn't been taken into the second period by an opponent all year as he added four wins to his career record, which now stands at 92-22, with 26 career pins.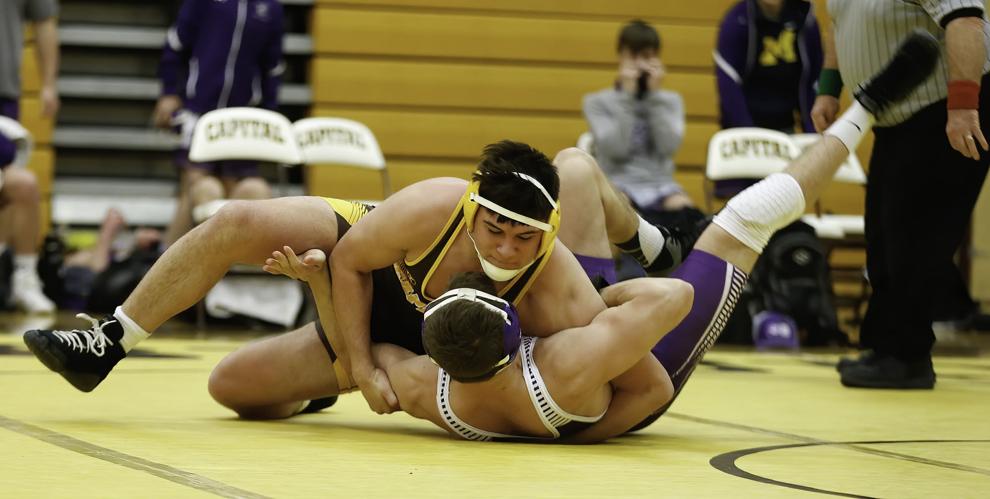 "It's been different," Kovick said. "But you just have to overcome all that. I have only got four matches this year, but I just work really hard in the room and we keep the pace up in the room so I'm feeling good."
In Davis, Kovick is facing another one of Montana's best, as the two-time state champion from Great Falls High has lost only twice since his sophomore year. Back in 2018, he was 24-1 on his way to the 182-pound title, as well as a 33-1 a year ago as he won the 205-pound weight class.
"There's kind of that mutual respect and if there is a state champion holding their weight, you kind of stay at yours," Kovick said. "But I don't know, I just don't think he's better than me and I am going to go out (this weekend) and prove it."
To his coach, that kind of mindset says even more about his future, than the present. 
"That really does go to show he is a Division one wrestler," Mahana said. "When you wrestle at that level, you have to be willing to compete every day. When you walk into a college room at that level, you may not score a point for three or four months. But the mindset and the mentality he has of, always trying to find the best competition, is going to serve him really well at the next level."
Weighing in at 190 pounds, Kovick will be wrestling up and giving up weight as he looks to win a second consecutive individual state title, this time at 205. 
"I actually am chasing him," Kovick said. "I don't think he deserves to be a three-timer. I could have stayed at 182, but I just wanted to chase him." 
"He's just a competitor," Mahana said. "He wants to go out and find the best competition he possibly can. That's what he likes to do. He wants to put himself up against the best."
And if the Bruins senior is able to sweep his way to a second state title, he would become just the second two-time state champ in school history.
"It would obviously put him as one of the top greats at Capital," Mahana said. "This year, he missed out on a chance to get 100 wins and he had a really good chance to be the all-time win leader at Capital. He normally would wrestle around 55 matches and this year he got four. But he's going to be in the record books for a lot of things and hopefully, this year, he's able to finish off his career the way he wants to."
Of course, thanks to the COVID-19 pandemic and all the impact it's had on sports in Montana and across the country, state wrestling this year is different, much different than in the past.
Instead of having the All-Class state tournament at the Metra in Billings, Class AA, Class A and Class B-C will each hold separate tournaments, with AA in Kalispell. 
For Kovick and other seniors, it means missing out on the Parade of Athletes and finals night, where state title matches from all three classes are held simultaneously, in front of thousands of fans in Billings.
"It's weird that it's my last one," Kovick said. "It's going to be different. Instead of wrestling in front of thousands of people, you will be wrestling in front of like 200."
Whether hundreds of fans watch the match or thousands, the eyes of the Class AA state tournament will be on Kovick and Davis, especially if the two state champions wind up meeting in the 205-pound final.
"It would be really cool to be a two-timer," Kovick said. "But I also want to show that I'm the best big guy in the state right now and that would be a great way to go out."