BILLINGS — Hunter Azure learned he earned a UFC contract at the same time as everyone else.
Azure, a Poplar native, beat Chris Ocon in a Dana White Contender Series bantamweight fight on Tuesday in Las Vegas. Azure and four other fighters were victorious that night, and he was the only one who didn't finish his fight. The five watched White, UFC's president, announce which fighters would receive contracts.
"You never know about Dana White and how he's feeling or what he thinks about people, so I was super nervous," Azure told 406mtsports.com on Saturday. "I was like, 'Dang, I didn't get to finish.' I was talking with my coaches. I was just bummed. I didn't think I was gonna get a contract."
White praised Azure's resume and performance against Ocon before announcing his verdict.
"Welcome to the UFC, Hunter," White said on the ESPN+ broadcast (1:50 in video below).
Azure has spent the last few days with his girlfriend in San Diego, and he's still digesting his accomplishment. The 27-year-old is focused on the future, but he's happy to relive Tuesday's contract-clinching moment.
"It's hard to describe that feeling," Azure said. "When you work so long for it, and all the hours you put in, sacrifices, it's just like a weight lifted off your shoulders."
In Montana, the Azure name is strongly tied to wrestling. Hunter was a four-time Class B state wrestling champion who graduated from Poplar in 2010 and earned a wrestling scholarship from Montana State-Northern. His father, Howard, is Poplar's wrestling coach, and his brother, Dustyn, was an NAIA All-American at Northern. Dustyn is currently the head wrestling coach at Eastern Oregon University, as well.
Hunter Azure grew up an MMA fan and often trained with a heavy bag in his family's garage (Howard was a boxer). He underwent two knee surgeries and right hand surgery as a result of wrestling, and those injuries derailed his career at Northern.
Once he healed up, Azure felt he "had more to give."
"I always wanted to try fighting, and I felt like I could be at the level of those (UFC) guys," he said. "I tried it out one day, and I was like, 'Alright, let's do this.' I knew I had to go to a gym, though, if I wanted to get to the level that I'm at."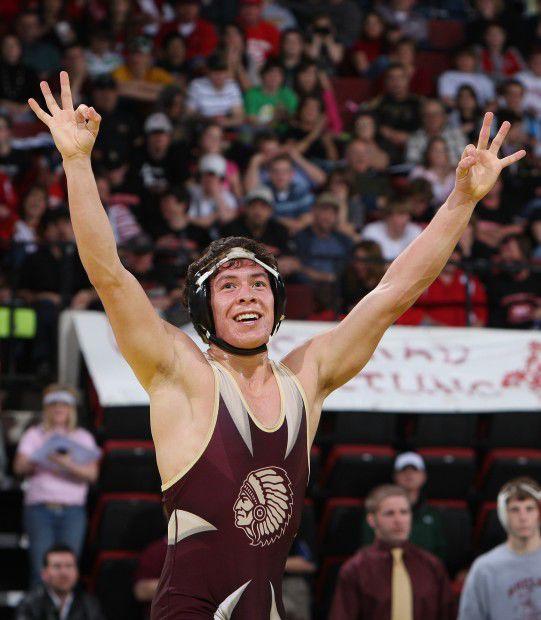 About five years ago, Azure moved from Montana to Salt Lake City, where he worked on a deck construction crew and picked up as many MMA fights as he could. He also became familiar with the MMA LAB, a gym in Phoenix where several current and aspiring UFC fighters train.
Azure reached out to the LAB's coach, who invited him to the facility. Azure loved it, and he moved down to Arizona about three weeks after his visit.
"I was like, 'This is the place I have to be if I'm gonna make it to the UFC,'" Azure said. "I got my butt kicked when I first moved down here to the LAB. As the year went on, I was getting better, hanging in with guys better."
To pay for bills and fight entry fees in Phoenix, Azure worked some side jobs and used money he had saved up from previous years. That allowed him to spend ample time in the LAB. This past April, he received an invitation to appear on the Contender Series.
There was one small holdup. Azure was scheduled to compete in a Legacy Fighting Alliance event on May 10 in Salt Lake City. If he lost the fight, he'd also lose his Contender Series invitation.
"I was like, 'I'm not gonna lose, and if I lose, I don't deserve to be on the Contender Series anyway,'" he said. "I just knew I needed more cage time and more experience out there, not even for the Contender Series, just for my career."
Azure won that fight, of course, and his decision paid dividends. On Tuesday's broadcast, White mentioned that May 10 bout during Azure's UFC contract announcement.
"He risked the opportunity to come on this show to take another fight," White said. "Then he comes in, fights the way that he fought, tried to finish the entire fight. This kid's right up my alley."
Azure beat Ocon with a unanimous decision, 30-27, 30-27 and 30-26. He would have preferred a more definitive win, but he'll gladly trade a few nervous minutes for a contract.
Azure joins Sean O'Malley on the list of Montanans who reached the UFC through the Contender Series.
Azure's contract covers four fights over 18 months, he said, and he knows another contract is not guaranteed.
"I always knew in my mind I was gonna be here," he said. "I didn't just want to be in the UFC; I wanted to keep climbing the ranks and just get in bigger fights as I go on. I'm not rushing things. I've just gotta take my contract a fight at a time, and a new contract will play out for itself, especially if I get four wins in this new contract.
"I'm excited for it, but I have bigger goals still."
Azure will head back to the gym on Monday. He's going to take some time off from the most intense training, focusing more on the mental and technical side of MMA for the time being.
Soon, the thrill of Tuesday's fight will wear off, and a new one will take its place.
"This was just kind of a teaser," he said. "We didn't get the gloves that say 'UFC' on it. We didn't fight in the full-size Octagon.
"Now, I'm excited to have that real experience."