MISSOULA — This summer's Missoula Marathon has been canceled because of the coronavirus pandemic.
The decision to call off the event was made Thursday morning by Run Wild Missoula, which was set to host its 14th annual race, scheduled for June 26-28. The cancellation marked a sad moment for Tony Banovich, executive director of Run Wild Missoula, as his previous feeling of being "cautiously optimistic" turned toward an expectation the race would have to be canceled.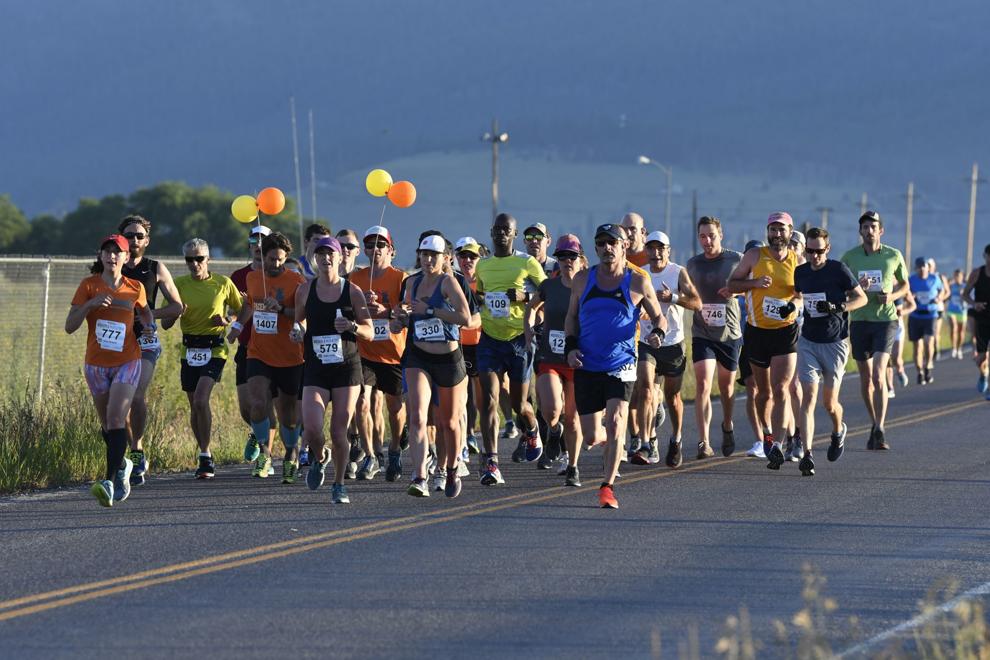 "It's a big gut punch," Banovich told the Missoulian. "We don't get to have this great, seminal event of the Missoula summer. We don't get to host that. We don't get to share our community with people from around the world. The streets are going to be empty on the last weekend in June.
"Just a tough, tough situation for everybody. We feel terrible about it. We held out for as long as we could, really hoping we could make it work. It's just nobody's comfortable moving forward and saying everything's going to be good by June, bring 'em in."
The call to cancel the race was made in conjunction with the Run Wild Missoula Board of Directors, the Missoula Marathon race committee, the Missoula City-County Health Department and a medical director, Dr. Rob Amrine of Missoula Bone & Joint.
"I don't think it comes as a surprise to anybody," Banovich said. "We realized it's just not viable and it's just not going to happen."
The main reason for canceling the race was the desire to prevent a surge of coronavirus from potentially being brought into Missoula, a county that has had just 39 confirmed cases and one death. Assuring that the virus didn't enter would have been difficult if the approximately 3,600 people who are signed up from all 50 states and eight foreign countries came to town.
"Some of them are coming from places we know have high virus transmission rates, high infection rates," Banovich said. "We know the issues that are sitting out there with people that are asymptomatic that are still spreading the virus. You bring all those people to Missoula and suddenly Missoula sees a big spike of cases here.
"Nobody on our end felt comfortable with that. Nobody felt that that was something that we should be considering: creating that potential for virus spread here in Missoula."
Run Wild Missoula internally discussed hosting the marathon with only Montana residents but didn't pursue that option. Montana would have to get to Phase Three in the state's reopening, which doesn't place a limit on gathering sizes. While that would make it possible for the marathon to be run, it might not be practical and safe with about 2,000 runners signed up across Montana.
The state is currently in Phase One, with gatherings limited to 10 people. Phase Two allows for 50 people to gather, but that one hasn't even been announced yet by Gov. Steve Bullock.
"Even though we're doing better in Montana, we're not immune to it," Banovich said of the virus. "Phase Three says business as normal, but quite frankly, nobody, not even just in Montana but anywhere else, has included mass participation events of hundreds and thousands of people in Phase Three. There's still a lot of unknowns for these bigger events out there."
Run Wild Missoula settled on May 7 as the date to make its determination about the race for a combination of reasons, including seeing how the virus played out over time and giving registrants ample notification. The major factor was that the organization would have to start putting down deposits for portable toilets, contracts with law enforcement, vendors for traffic control and contracts for bus transportation by the middle of May if the race was still on.
Those expenses would be mostly non-refundable, which would hamper Run Wild Missoula financially and limit its ability to give refunds to people who registered if the race was canceled. The organization had already spent money on T-shirts, medals, overhead costs and advertising in the months leading up to the pandemic hitting in mid-March.
There are four options for people who've already signed up. They can get a 50% refund, defer their registration fee to next year, participate in a virtual race that includes a T-shirt and medal, or donate what they spent, which will be divided four ways among Run Wild Missoula and three of its partners: Missoula Youth Homes, which uses the marathon as one of its biggest fundraisers, Opportunity Resources and the Missoula Food Bank.
"One of the big parts of our mission is trying to participate as a good community member and provide some resources to a variety of organizations here, both financially and in kind," Banovich said. "If we've got people that are willing to donate money back to our organization, we feel it's important that we help to spread that out elsewhere to help some of our partners that are also struggling financially a little bit."
The impact of the race being canceled goes beyond Run Wild Missoula not getting to host the event, runners not getting to participate and community members not being able to volunteer.
The Missoula economy will take a hit without the marathon as travelers would normally descend on the town for days, pumping money into local restaurants, hotels, breweries, stores and airlines. Banovich expected the race to bring in about $2 million based on previous estimates with Destination Missoula, although those haven't been updated in a couple of years.
"The sad part of all this is nobody wins out of this whole scenario," Banovich said. "Nobody comes out on the good side of all this. The best way I can put the whole scenario where we're at is there's no winners coming out of it. Right now, it's hard to even find a silver lining, and I'm a guy that loves silver linings, but it's pretty hard to find it right now."
Run Wild Missoula will also be impacted financially because the Missoula Marathon is its primary financial resource. Banovich is expecting "a loss somewhere in the low six figures," quite the swing from its normal expected net profit in the low six figures.
Run Wild Missoula can sustain that this year because it has been building up operational reserves in case a wildfire and its smoke forced the cancellation of a race. Now, it'll have to focus on building up those reserves again.
"We will be able to survive this, but it's going to hurt us," Banovich said. "It'll probably hurt us for several years until we can get back to the point where we're sitting at today."
Banovich hopes Run Wild Missoula will be able to get back up and running by the fall for some of its other runs, groups runs, training classes and social activities that help fund the organization. The Missoula Marathon is the largest of the 13 runs it hosts.
"As long as we can get back to some racing and group runs and some of the things that we historically do hopefully coming into the fall, I think we'll be OK," Banovich said. "If we can't start to have any races or group events through this fall and into next spring — I'm very optimistic about where we stand today — but I'd begin to get more and more pessimistic.
"If we can't provide those resources to the community and then start to lose membership, I get nervous about what that means for us."