HELENA — Forty-nine years.
That's how long it's been since a Capital City athlete qualified for the U.S. Ski Team. But the wait is finally over, in the person of one Konnor Ralph.
Ralph, 18, recently made the U.S. Freeski Team, highlighted by a pair of top-4 placings against international competition in Europe. And his qualifications were bolstered by a consistency finishing near the top in U.S. competitions, along with a championship and several runners-up in national meets.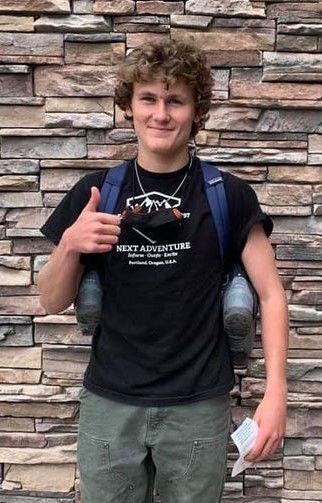 Last month during the European Premium Tour at Corvatsch, Switzerland, in the Europa Cup, Ralph placed sixth in Slopestyle, and at the Freeski Swiss Championships he claimed fourth-place in Big Air, competing against six other countries.
Then for an encore, in the Austria Freeski World Rookie Tour at Hintertux, he qualified for the Slopestyle finals before posting a third-place overall finish.
Ralph and his parents, Chris and Chris (Burley), found out soon afterward that he earned a position on the U.S. Freeski 's 11-member Slopestyle/Big Air Team.
By making the national team, Ralph has achieved half of his life's goal, having told the Helena Independent Record in 2018, at age 15, that "my dream is to make the Winter Olympics in the next eight years."
"I'm very excited to make the team – it's a goal I've been working on for a majority of my life," the freestyler related in a recent telephone interview from Sandy, Oregon, where he graduated from Windell's Action Sports Academy this spring. "It feels really good to have all the hours of training and hard work pay off, and I'd just like to thank my family, my friends, and my sponsors, for everyone's support."
Ralph's elation was probably exceeded by only that of his parents. While exchanging late-night texts with his mother regarding the results from Europe, I asked if they could hold off until the next morning. "Okay," Mrs. Ralph replied, "but it's so exciting I don't want to wait."
Ralph is only the second Capital City native to qualify for the U.S. Ski team, the first being Rogers Little, who turned the trick in Alpine nearly a half-century ago.
"I didn't know Konnor, but making the team is a very nice accomplishment," texted Little, who went on to qualify for the 1972 Tokyo Winter Olympics in the Downhill, but was unable to compete after sustaining a serious knee injury on a motocross cycle.
Fellow Montanans also qualifying for this year's Freeski team are Maggie Voisin of Flathead, and Missoula's Darian Stevens.
Ralph burst onto the national scene by capturing the 2017 USASFA national championship, winning the Railjam title in the 10-13 age group. The next year, he placed runner-up at the Toyota Revolution Tour Qualifier, at Colorado's Copper Mountain Ski Resort.
In 2019, he again finished second in the Rev Tour in Slopestyle freeskiing at Seven Springs, Pennsylvania. Ralph then placed runner-up at the Aspen Freeskiing Open at Colorado's Buttermilk Mountain the following season, competing in the Slopestyle 14-and-over.
This winter, he garnered the Freeski third-place Slopestyle medal at the National Freestyle Championships at Copper Mountain.
Slopestyle is described by Wikipedia as skiers "navigating down a course which includes a variety of obstacles, including rails, jumps and other terrain park features." Points are scored for amplitude, originality and quality of tricks. In the Big Air discipline, the skier speeds down a hill, launches off a very large ramp, and performs one big jump 50-70 feet in the air.
"Yes, his placings in Europe (in April) probably clinched his spot on the team," Mr. Ralph recounted, when asked details of Konnor's qualification. "But also consistency making the finals over the years, plus he's been adding to his bag of tricks."
At Corvatsch and Hintertux, the young daredevil listed those tricks as: a right double cork 1440, left double cork 162 mute grab, switch double cork 1260 Japan grab, switch double cork 1800 safety, double cork 1620 mute grab, switch right double cork 900 Japan, left double cork 1260 mute grab and switch cork 1080 tailgrab.
"I definitely had the best performances of my career over there," said Ralph, who is currently training at the U.S. Freeski & Snowboard teams' facility at Mammoth Mountain, California.
In order to achieve the second part of his goal, the path to reaching the 2022 Beijing Winter Olympics next February requires a move up to the next level. Ralph will be competing in "some, or all, of the Olympic qualifiers that are also World Cup events," against his 10 teammates (six pros and four fellow rookies).
The final four-man team will be composed of three qualifiers, and one discretionary selectee for the fourth athlete.
So just one word of advice, if you don't mind – and I know my buddy Rogers Little agrees – stay away from those motocross bikes…
Curt Synness can be reached at 406-594-2878, or curt52synness@gmail.com. He's also on Twitter @curtsynness_IR