BILLINGS – On a day when he should have been practicing with the New York Jets, Dylan Donahue was in the gym at CrossFit Billings on Friday, reflecting on eight months gone wrong.
A wrong-way DUI crash in the Lincoln Tunnel in late February put the former Billings West standout in an unwanted spotlight, and only highlighted even more a previous DUI in Billings on May 9, 2017. That occurred just 10 days after the Jets took him in the fifth round of the NFL Draft and two weeks before he signed a four-year, $2.6 million contract.
In the wake of those issues, the Jets waived him on the final day of cuts before the season started. It was the end of what seemed like a promising year for Donahue, who played in four games before suffering a season-ending injury in his rookie campaign.
Donahue, 26, was eager to get healthy and contribute entering fall camp. Soon after, though, the NFL suspended him for 14 games for violating the league's substance abuse policy.
Donahue told 406mtsports.com on Friday he is sorry for his mistakes.
He pleaded guilty to both DUIs over three days and can't drive because of his suspended license. But he is looking forward to the next chapter in his life, wherever it might lead him.
For starters, he is taking steps to battle his alcohol addiction. While still with the Jets, Donahue went to Jacksonville, Florida, where he spent 30 days in treatment to get sober.
"After that, I haven't had a drink since," Donahue said. "Ever since then, I've just really been focused on my sobriety and being a better person and trying to get the most out of my life in general, not just with football.
"It's unfortunate. I had to suffer the consequences, obviously, so I'm here in Billings now for the time being. Ever since then, I've just been trying to get right with the Lord and focus on my sobriety."
Donahue said it was hard to re-earn the trust of his coaches and teammates once he was back with the Jets, which he understands.
"It really got me in touch with myself, too. Like getting to know what triggered my alcoholism in the first place," he said. "I was able to find myself. I know it sounds kind of funny but I was able to go there and figure out who I really was outside of football and everything and just me as a person. So it was really good for me to go down there and figure that out."
As the sun shone through an open garage door at CrossFit Billings just off of Grand Avenue, Donahue candidly spoke about his mistakes and how he is fixing them. When asked why he put himself in back-to-back similar situations, he didn't dodge the question.
"After the one in Billings, it was a pretty big deal, but I guess I didn't learn my lesson at first," he said. "I didn't really let it affect me that much. I kind of tried to forget about it and move on with football. After playing in the league and finally having the means to do what I want, and then going out with my teammates all of the time, it's really just an outcome of celebrating all of the time and kind of falling into that lifestyle. I let it take over.
"That night it was just a matter of I didn't want to leave my car in a certain spot and I decided to drive back and it was not a good deal. I let the lifestyle take control.
"I just got caught up."
It could have been much worse. The second incident was in one of America's busiest tunnels, which connects New Jersey and New York.
"If the situation would've been different in any kind of way someone could've died," he said. "I think about that every single day. It definitely plays a part in my determination to start helping people.
"From now on, I encourage people to make better decisions so they don't have to suffer the consequences that I have had to suffer."
Now back in his home state, Donahue is using those lessons to start fresh. And he's doing that by giving back to his alma mater.
Donahue has been a guest coach for West's football team, trying to serve as a mentor and example.
"A big reason why I wanted to coach at West was just to be a positive role model for these kids and let them know what can happen as a result of drinking and partying and all that kind of stuff," he said. "If you attack it now, your future will be much brighter."
Donahue said coming home has been a humbling but refreshing experience. His days are filled with working out and coaching. It's offered him a chance to spend more time with his family. He doesn't go out like he did when he returned from college at West Georgia.
"My family and the kids are my No. 1 priority right now, and the Lord," Donahue said. "Just being able to focus on that and me and have time to myself is a big opportunity for me. The other thing, too, is watching Jets games. It's like, 'Man, I could be out there, helping out.' Just like last year when I got injured. I got to play four games and I was injured the rest of the year and all I wanted to do was surround myself with my teammates and the team because I desperately wanted to be a part of it and I was doing anything I could. Realizing I couldn't was kind of heartbreaking. It's tough just watching games knowing I could be out there.
"On the other hand, I get to watch these kids at West and teach them the things that I've learned and also give my opinion to the coaches. It's been a really great experience and I see the purpose of me being here. I'm happy where I'm at."
Donahue said he reached out to West head coach Rob Stanton once he knew he'd be back.
"I've come talk to them before but not like this," Donahue said. "I don't have anything to hide from them. They all know my story."
"We're glad Dylan is with us even for a short time. Hope it's as short as possible so he gets back into the NFL," Stanton said. "Whenever Dylan was away, and this is going back to his first year out of high school, he's a kid that always came back and visited coaches, teachers every year. We're glad he's helping.
"It's not often kids get coached by a current NFL player and he knows he's done some things and he's paying his price, but he's a good dude to be around our kids right now."
In an otherwise serious discussion, Donahue let out a big smile when talking about his players.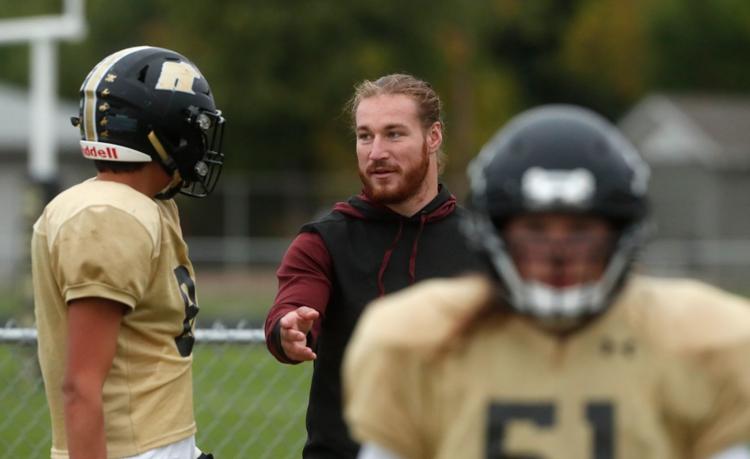 "It's been really fun, especially seeing them do what I'm teaching. I get so excited. I see from a coaches' standpoint what it means for someone to be coachable," he said. "If you tell them this is going to work, and they trust it, and they start using it, and it works, you see the smiles on their faces. It gives me the chills just talking about it. It's really awesome to see."
The most common questions he gets are how many pairs of shoes he has and whether he gets new cleats and gloves every game. Occasionally, he sees himself as one of those kids, saying it's funny to hear what they have to say.
"It's a good opportunity for him to be around football," Stanton said. "He has his time right now but it's for our kids and really for Dylan to still be around the game. The passion that he brings. He'd like to get the pads on and step right in there, but obviously he's a little advanced for us right now. But it's good for him to be around football."
Donahue fills his time with working out at CrossFit Billings from Monday through Friday. With the help of CrossFit Billings trainer Yurii Hanson, Donahue said he's turned toward learning how to cook more healthy meals for himself. He coaches after working out, then goes home.
Donahue added that sometimes he will go to P.A.R — or Power for Abundant Recovery — meetings with his father, Mitch. He described the meetings as, "AA for Christians." The meetings offer both Donahues a chance to battle their demons and find recovery together.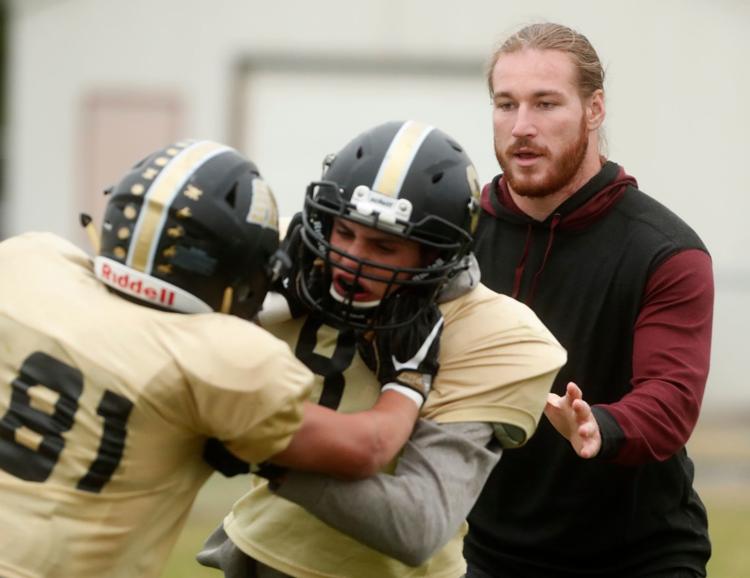 "He's kind of a good example for me to look up to," Dylan said. "It's good to hang around with family.
"He keeps on telling me the same thing. 'Just keep doing what you're doing and keep going down the right path.' Sobriety is a big key in all of it, too. He just leads by example and I can follow. He's made it easier on me to do good."
The elder Donahue has battled alcohol troubles in the past, and says he is currently one year and four months sober. Mitch played four seasons in the NFL after a standout career at West and the University of Wyoming.
"Part of your recovery process is to keep going to meetings and have a fellowship with people who are also trying to stay sober," Mitch said. "I found a good group with Power for Abundant Recovery and it's just really changed my life a lot, so I thought he'd probably enjoy it too."
Mitch and Dylan say they are a lot alike. And knowing what battles with alcohol can be like as well as life in the NFL, Mitch has been there to help his son as he attempts to move forward.
"My (business) partner, his favorite saying is, 'You don't look back unless you're headed there,'" Mitch said. "My advice for Dylan is to not dwell on what's happened and focus on what you can do and control."
Their situations in the NFL are different, as Mitch was married and a father by the time he entered the league. He's excited to watch Dylan's progress.
"He came right home. Dylan's working really hard to stay in the best shape and eat right so that he is ready to go as soon as he is picked up by another team," Mitch said. "It'd be easy for a lot of guys to get depressed and not work out. The easy thing to do would be let it go and fade away. But he's not doing that. He's fighting hard and trying to put himself in the best position with the given circumstances to be successful."
As far as his NFL future, Donahue said there has been some interest, but he still has a lengthy suspension. He said he can sign with a team two weeks before his suspension ends and practice with a team. There has been some contact, but Donahue acknowledged that anything could happen from now until then. But if he stays in shape and out of trouble going forward, he thinks he could find a second chance in the NFL.
"I'm confident that at the end of my suspension that another team will have some interest and I'll get another shot," he said.
"There's peaks and valleys. Watching games is still hard. When my dad got out of the NFL we didn't watch football for a long time and I understand where he's coming from now," Dylan said. "But there's also good times like last Friday when we beat Great Falls High. That was a really great moment. And seeing my friends on the Jets do good is a great feeling, too. You know, I could be out there celebrating with them.
"I do miss the lifestyle, some parts of it. I do miss New York and the fans. Whatever is out of my control, I'm not going to worry about. I'm just going to control what I can."
If he gets a second chance, Donahue said he feels better prepared, thanks to his sobriety. His priorities have changed.
"Being drafted was a great thing for me to get a shot, but I also think it made me a little bit cocky," Donahue said. "I had the world by the balls. The actual lifestyle outside of football ruined that. I let it get to my head. But now I know exactly what to do and what not to do."