BILLINGS — Like many bull riding events, the Professional Bull Riders Billings Invitational features a "shark cage" — a covered area in the center of the arena where photographers and camera people can shoot the rides behind bull-proof bars.
The area, like actual shark cages, is meant to protect the camera operators from the fearsome animals they're observing. Rodeo clown Flint Rasmussen also used the top of the cage as a stage and a place to retreat.
The PBR's official photographer, Andy Watson, didn't bother with the cage last weekend at Rimrock Auto Arena at MetraPark. Instead, he stood in the dirt, a safe distance behind the bullfighters but close enough to capture detailed photos of the rides, and he stayed close to the west fence in case he needed to avoid a charging bull.
"I won't go swim with sharks," Watson said, "but I'm out here every day."
Like a filmmaker who swims next to great whites, Watson understands the risks but is comfortable around the animals he documents. He knows them too well, and he's been doing this too long to feel fear.
Watson, 47, has been photographing rodeo for about 30 years. The Three Forks resident started shooting PBR events 24 years ago, the same year the Billings Invitational began. The local bull riding showcase has given Watson a chance to do what he loves while staying close to home, an opportunity that doesn't come around too often.
Watson was born and raised in Jackson, Wyoming, attended Casper College and moved to Montana in 1994 (he lived in Bozeman before Three Forks). He grew up around rodeo and developed a photography interest at Casper.
"Rode some bucking horses poorly and figured out that photography paid quite a bit better," he said. "Safer, you feel better, you can stay in it a lot longer."
Watson met his future wife, Jacey, around 2000 when she was attending college at Montana Western. A rodeo athlete herself, it wasn't exactly improbable that Jacey became acquainted with Watson while he was on the job.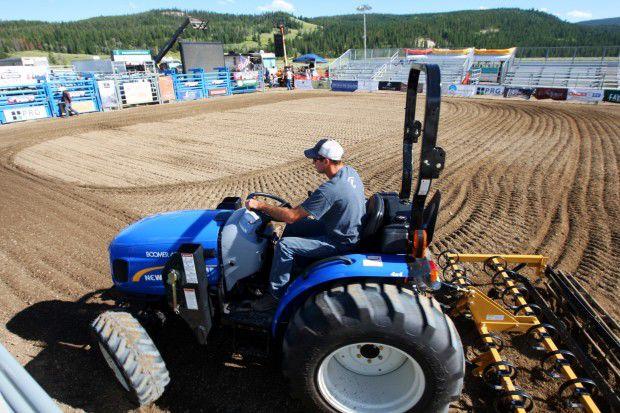 Jacey majored in business and administration at Western, but by the time her relationship with Watson blossomed, she joined his photography company (now called Bull Stock Media, which was launched about 10 years ago).
"Photography was definitely not an interest of mine," Jacey said. "I was more drawn to the business aspect of it."
Some marriages would crumble if the couple operated a business together, but the Watsons have experienced no such strain, Jacey said. Their personalities mesh and their roles are different enough that, if anything, they don't spend as much time together as they'd like.
While Andy Watson is in the middle of the action, Jacey works behind the scenes, mostly from home. She handles the book work, licensing, day-to-day contracts and archiving, among other duties. She considers herself Watson's shadow.
"I don't like to travel. I'm more of a homebody, so it works out really well," Jacey said. "Don't get me wrong, I do miss the guy. I'm not looking to throw the guy into the plane."
Watson recently counted up the number of days he spent on the road in 2018 so he could write them off while filing taxes. The final tally: 264 days away from home.
The Watsons own three horses and have taken care of several dogs during their marriage, but they don't have any children. Another setup might have taken Watson off the road years ago, and he's thankful for the relative freedom to do the job he loves.
He also wishes he could spend more than 101 days a year at home.
"I love what I do, I hate the travel," he said. "The travel used to be fun and exciting. I'd like to be home now."
Watson loves the ability to photograph bull riders, and he's documented the entire careers of several PBR athletes. He got hooked by a bull once and has experienced some close calls, but for the most part, the land version swimming with sharks has been a safe venture.
He's just not sure how much longer he can handle spending the bulk of his years on the road.
"You start doing anything for 25 years, people start asking when you're going to retire," he said. "I don't know if I know that answer."
If or when Watson does step away from his PBR job, he hopes to still manage photographers. In addition to rodeo, he and Jacey do real estate and lifestyle photography. The PBR is hardly Bull Stock Media's only client, so a transition away from Watson's current gig would seem to be seamless.
Watson will always do something with a camera in his hand, he expects. And though the road trips are draining, he's not sure he could abandon events like the Billings Invitational.
"I might take a weekend off here and there, but I'd probably be home for a year if I didn't go to them and get the itch," he said. "It's hard to quit something that you love to do."