Two-year-old Sal Armenia got a fist-bump from two professional bull riders Thursday.
In the arms of his dad, also named Sal, the toddler happily answered questions from the two visitors in his patient room at Billings Clinic.
Professional bull riders Matt Triplett, of Columbia Falls, and Dakota Louis, of Browning, took time Thursday afternoon to visit the Bob and Penni Nance Pediatric Unit at the hospital, ahead of the PBR Billings Invitational Friday through Sunday at MetraPark.
Tyler Erving paused his video game to say "hi" when the riders walked into his room. Tyler doesn't watch bull riding but he's got a friend who does — and rides bulls too, he told Triplett.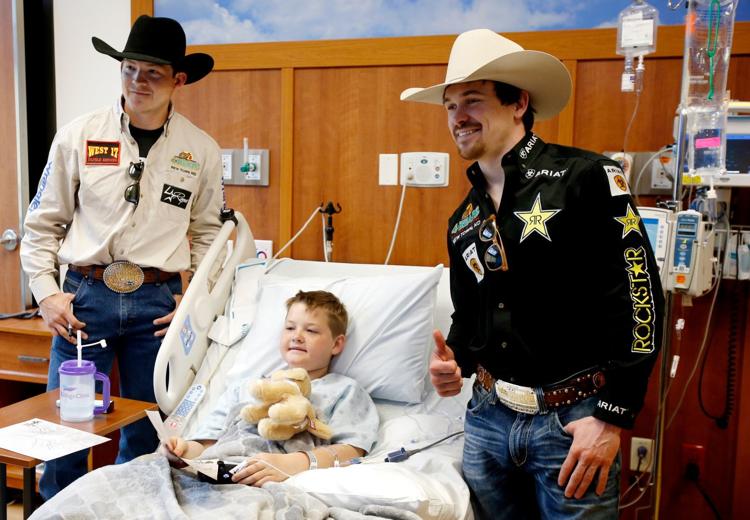 Louis signed a picture for the 10-year-old patient, and Tyler said he plans to hang it on his bedroom door.
"Do you want me to sign one for your buddy, too?" Louis asked. Tyler said yes, and got an extra autographed picture he'll surprise his friend with. 
This wasn't the first hospital visit for the bull riders. 
"We try to give back to the communities that are hosting such good events and do so much for us," Triplett said of time on the road.
Most kids are surprised to meet them, and then excited after they get to know each other, Louis said. Giving back is always gratifying for Louis.
"To put that little bit of light in (the kids') day definitely does it for us," he said. "That's what it's all about."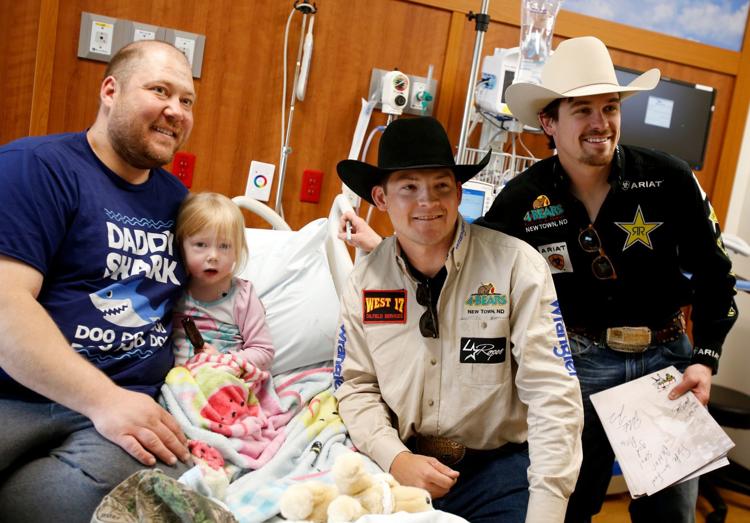 Allyson Houser, 3, was a prime example of a surprised reaction fading into a pleasant interaction. 
A little shy at first, Allyson didn't say too much to the riders and instead she focused on the popsicle she was eating. 
"How's your popsicle?" Triplett asked her. Allyson perked up.
"Do you want it?" Allyson said, offering to share her purple, melting popsicle. It was grape flavored, she told him. 
"Oh, nice, is that your favorite kind?" Triplett asked her. Allyson said it was. The popsicle helped her "throat boo-boo" feel better. 
As Triplett handed the girl a signed photograph, she was hesitant to take it. 
Her dad, Jeff Houser, took it for her. 
"You'll know this is a big deal deal later on," Houser said, chuckling.