Just in time for the cold and snow, indoor soccer has come to the Helena area.
Queen City Football Club of Helena rented the space at 1035 ½ Mill Road and transformed what used to be a warehouse full of dirty, greasy equipment into a 100 foot by 50 foot soccer court.
"The club has wanted this for two years," said QCFC President Bridget Johnston. "The space became available and we jumped on it. We're always fighting for gym space around town. There's a need for Helena kids to do soccer in the winter."
The building was leased Oct. 1. Volunteers and the board cleaned and painted the building. They took down walls and erected 4-foot-high arena walls.
People hear about it and want to know if it's truly a soccer court or another gym, Johnston said. It is a soccer court. Adult leagues play full court and for youth teams, the court can be divided into three play areas.
"The building is insulated and heated," she said. "It's actually quite warm."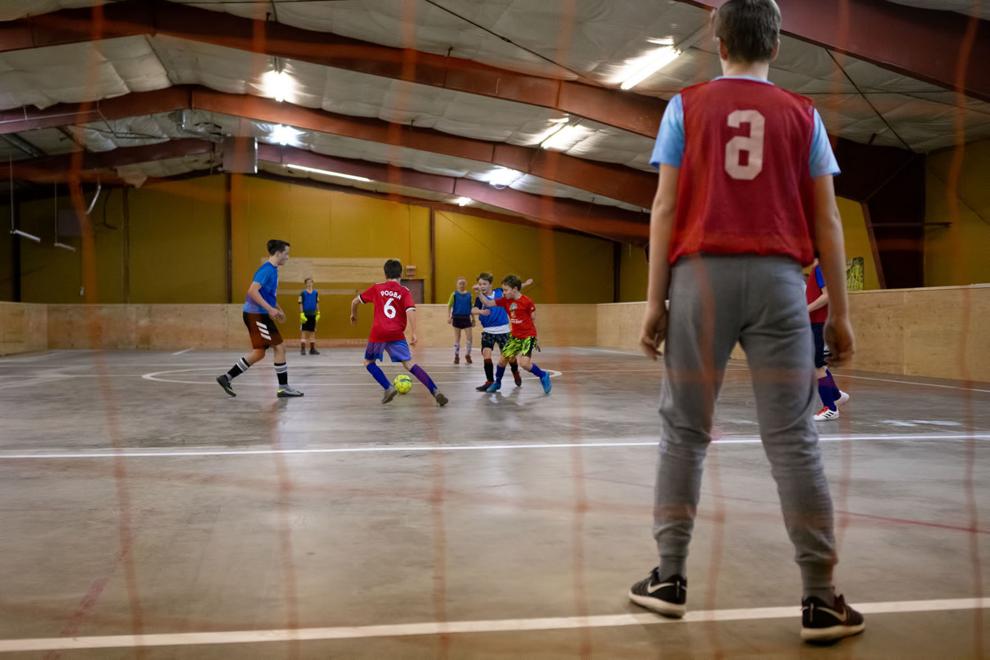 Throughout the winter, classes and team play for adults and children will be available. There are indoor leagues for youths from age 3 to 18. Adult league will be Monday night for anyone 18 and older.
Competitive teams will be practicing for spring. Interested adult players can register for league, form teams, or be placed on a team.
There has been talk of open times when players can drop in and play but nothing yet is scheduled. There also is the possibility of adding pick-up games later if there is enough interest.
For now, adult pick-up games are scheduled from 6 to 8 p.m. Nov. 12 and Nov. 19. League games will start Nov 26. Registration for adult and child leagues can be done online at https://queencityfc.org/register.
Montana's Olympic Development Program rented the space for practice over the winter. The U.S. Youth Soccer Olympic Development Program is made up of players in each age group from which a National Team is formed for international competition.
"We also hope to host events for youth in town that don't necessarily have to be soccer related," Johnston said. "Like a youth lock-in or parents' night out, where kids can come and hang out and play dodge ball or something."
There is a classroom for referee training and coaches clinics as well as a concession area with food, foosball and television. Johnston said they are hoping to make it a place "where kids just want to hang out."
When children are practicing, parents and siblings can be comfortable staying for an hour and have coffee.
"With practice for only an hour, you can come in and be warm and wait," Johnston said. "There are indoor soccer leagues all over the country. With the cold here, it's crazy we didn't already have one."
While there won't necessarily be retail space, club apparel and necessities, including shin guards, will be available. Online orders from soccer.com may also be delivered there.
"We don't want to compete with anybody locally selling," Johnston said. "We will just have things available if you need it for a Sunday game."
Queen City Football Club of Helena has been using its own money to fund the venture. Funds have been raised by selling wall board advertisements within the building.
One of the last big projects is the installation of the shock resistance sports floor. While the concrete floor is playable, Johnston said it's not preferable. There is one more available big sponsor.
Johnston said the club wants to add The Outreach Program for Soccer to its schedule. TOP Soccer, a program through U.S. Youth Soccer, is for children with special needs. Johnston said it is volunteer driven and there already are about 20 people committed to the program.
She said the plan is to begin in January. Great Falls is the only other area in the state with this program.
"With this controlled environment, we will be able to launch a good program," she said.